Welcome Military Students
Education Information
Serving Those Who Serve Their Country and Community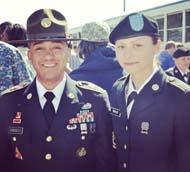 PFC Olesya J. Trikur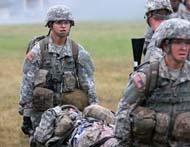 PFC Olesya J. Trikur is pictured during her recent Combat Medic training for the US Army National Guard.


Olesya is an Honor Graduate of Basic Training and achieved the 3rd highest female APFT (Army Physical Fitness Test) while in training.
She is currently a nursing major
here at Neumann.
As a member of the U.S. armed forces, a veteran, or a dependent, you will find Neumann University an attractive
option for your education. You will find people, programs,
and resources available to make your decision an easy one
and your studies a success.
In order to honor the men and women who have served
our country, Neumann provides the following for our military students:
- Online education in an accelerated format

- Evaluation of military training for college credit

- Yellow Ribbon program

- Tuition discounts
If you have questions about obtaining your degree, please contact us by calling 610-361-5208.