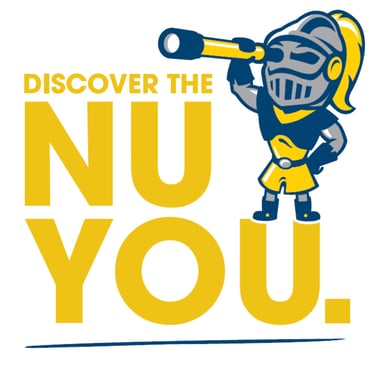 Class of 2024 Orientation
Get ready to Discover the NU You!
We are pleased to welcome you to Neumann University's New Student Orientation for the 2020 - 2021 school year – DISCOVER THE NU YOU.
We are so excited that you have chosen Neumann University as your final destination. As you may know, Neumann is a Catholic Franciscan university. This means that we take pride in Catholic Franciscan traditions and our core values known as R.I.S.E.S - Reverence, Integrity, Stewardship, Excellence and Service. We place a special emphasis on showing respect for one another while at the same time giving back to our community.
In response to COVID-19, Neumann University will transition all summer orientation sessions for June and July to a virtual platform. There will be no in-person orientation sessions held during the summer months. Orientation is still a required program for all new students entering Neumann University this fall.
The administration, faculty, staff, and your 2020 NU Knight Mentors are still thrilled to welcome you and your family to the Neumann community. During on-line virtual orientation, you will learn all about academic life, the student experience, campus resources and policies, engagement opportunities and other helpful information for starting your journey as a Neumann Knight. Our team is working diligently to craft an exceptional virtual orientation experience. Here is how these changes will affect you:
If you have already registered, thank you. Do not worry about going in and adjusting your orientation registration. We will take care of that for you.
Our on-line, virtual orientation will become available to deposited students on June 15, 2020. You will receive specific instructions as to when you can begin the program and how to log-in. Information will also be sent regarding our Parent and Family Member Orientation and how parents and guardians can access their own orientation.
Changes to the orientation fee have been made. All new students will be charged a one-time $75 on-line orientation fee. This fee includes orientation for first-time freshman, transfer students, and our parent and family member orientation. Please note that a separate fee is charged for NU Knight Prep Days our in-person program held in August. More information can be found on the NU Knight Prep Days webpage.
Once you begin the on-line orientation program, you will have a week to finish the virtual orientation.
Additional information and instructions will be provided for Academic Advising. Students will have designated advising appointments to meet virtually with an academic advisor.
Further instructions will be provided in future communications, via your application portal, and through the Neumann University website.
We cannot wait to share our knowledge and love of Neumann with you. Welcome to the Neumann family! DISCOVER THE NU YOU.