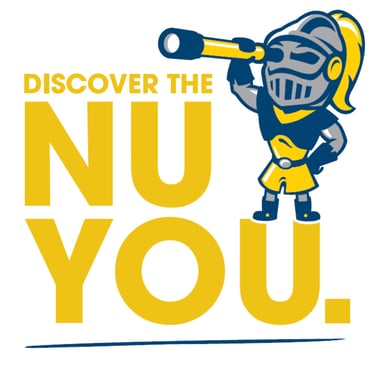 Class of 2025 Orientation
Get ready to Discover the NU You!
We are pleased to welcome you to Neumann University's New Student Orientation for the 2021 - 2022 school year – DISCOVER THE NU YOU.
We are so excited that you have chosen Neumann University. As you may know, Neumann is a Catholic Franciscan university. This means that we take pride in Catholic Franciscan traditions and our core values known as R.I.S.E.S - Reverence, Integrity, Stewardship, Excellence and Service. We know that your experience both inside and outside of the classroom will be enriching, meaningful, and prepare you to make your impact on the world.
Neumann University will has developed a new student orientation and on-boarding experience that blends online and in-person activities. This includes our on-line orientation program, our in-person NU Knight Prep Days, and on-line academic advising and course registration.
During on-line virtual orientation, you will learn all about academic life, the student experience, campus resources and policies, engagement opportunities and other helpful information for starting your journey as a Neumann Knight. We ask that you complete this prior to attending NU Knight Prep Days. First-year, freshmen students can access their orientation by clicking on the link below or through their admissions portal. The online orientation is a required program for all new students to complete.
Launch Orientation
During the months of June and July, students will attend our in-person NU Knight Prep Days. This program is designed with your safety in mind and is limited to new students and two parent or guardian guests. NU Knight Prep days puts you in touch with important resources for your personal and academic success at Neumann University as well as build a sense of community among our newest Neumann Knights. To register for your NU Knight Prep Day, please select your session choice in your admissions portal.
Additional information and instructions will be provided for Academic Advising. Students will have designated advising appointments to meet virtually with an academic advisor. Further instructions will be provided in future communications, via your application portal, and through the Neumann University website.
We cannot wait to share our knowledge and love of Neumann with you. Welcome to the Neumann family! DISCOVER THE NU YOU.
For information regarding Academic Advising and Course Selection, please contact advising@neumann.edu.
For general questions regarding the online orientation program, please contact orientation@neumann.edu.