NU Assessment
Welcome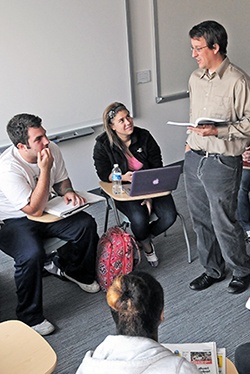 Assessment of student learning at Neumann University occurs at the course level, program level, and institutional level. It is a process of continuous improvement based on data, analysis, research, and observation. The goal of academic assessment is to validate learning expectations as expressed in program learning outcomes, course objectives, and university-wide goals. The overarching questions that academic assessment seeks to answer are "When a student leaves the university after completing a program of study, what is it that the student should know, be able to do, and value?" and "How do we know that the student can do the above?"
Assessment of student learning is supported at Neumann University by the Office of the Vice-President for Academic Affairs and the Learning Outcomes Assessment Committee of the Faculty Senate. Educational assessment is faculty-driven. It is also regulated by various higher education accrediting agencies. Assessment practices should be transparent and the evidence of student learning should drive educational practices, program design, and resource allocation.
The NU Handbook of Academic Assessment supports the assessment of student learning outcomes at the university. It contains the definitions, processes, forms, and procedures for academic assessment.
Because student learning is at the heart of the mission of most institutions of higher education, the assessment of student learning is an essential component of the assessment of institutional effectiveness (see Standard 7: Institutional Assessment), which additionally monitors the environment provided for teaching and learning and the achievement of other aspects of the institution's mission, vision, and strategic goals and plans.
MSHCE Characteristics of Excellence: Accreditation Standards