NU Assessment
Welcome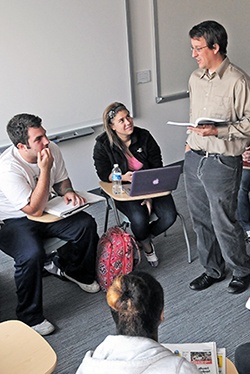 Assessment of student learning at Neumann University occurs at the course level, program level, and institutional level. It is a process of continuous improvement based on data, analysis, research, and observation. The goal of academic assessment is to validate learning expectations as expressed in program learning outcomes, course objectives, and university-wide goals. The overarching questions that academic assessment seeks to answer are "When a student leaves the university after completing a program of study, what is it that the student should know, be able to do, and value?" and "How do we know that the student can do the above?"
Assessment of student learning is supported at Neumann University by the Office of the Vice-President for Academic Affairs and the Learning Outcomes Assessment Committee of the Faculty Senate. Educational assessment is faculty-driven. It is also regulated by various higher education accrediting agencies. Assessment practices should be transparent and the evidence of student learning should drive educational practices, program design, and resource allocation.
The NU Handbook of Academic Assessment supports the assessment of student learning outcomes at the university. It contains the definitions, processes, forms, and procedures for academic assessment.
MSCHE Standard 14: Assessment of Student Learning
Assessment of student learning demonstrates that, at graduation, or other appropriate points, the institution's students have knowledge, skills, and competencies consistent with institutional and appropriate higher education goals.
Assessment of student learning may be characterized as the third element of a four-step teaching-learning-assessment cycle:
Developing clearly articulated written statements, expressed in observable terms, of key learning outcomes: the knowledge, skills, and competencies that students are expected to exhibit upon successful completion of a course, academic program, co-curricular program, general education requirement, or other specific set of experiences, as discussed under Standard 11 (Educational Offerings)
Designing courses, programs, and experiences that provide intentional opportunities for students to achieve those learning outcomes, again as discussed under Standard 11;
Assessing student achievement of those key learning outcomes; and
Using the results of those assessments to improve teaching and learning.
This standard on assessment of student learning builds upon Standards 11 (Educational Offerings), 12 (General Education), and 13 (Related Educational Offerings), each of which includes assessment of student learning among its fundamental elements. This standard ties together those assessments into an integrated whole to answer the question, "Are our students learning what we want them to learn?" Self-studies can thus document compliance with Standard 14 by summarizing the assessments of Standards 11 through 13 into conclusions about overall achievement of the institution's key student learning outcomes.
Because student learning is at the heart of the mission of most institutions of higher education, the assessment of student learning is an essential component of the assessment of institutional effectiveness (see Standard 7: Institutional Assessment), which additionally monitors the environment provided for teaching and learning and the achievement of other aspects of the institution's mission, vision, and strategic goals and plans.
MSHCE Characteristics of Excellence: Accreditation Standards