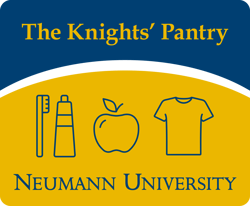 Mission: The mission of the Knights' Pantry is to provide resources to alleviate food insecurity, improve health and wellbeing, ensure a reduction in food waste, and promote sustainability on campus. 
Eligibility: All Neumann students (graduate and undergraduate) with a current ID are eligible to use the pantry. Neumann Staff and Faculty in need are asked to contact Megan Camp or Guilherme Lopes directly.
Neumann University Designated a Pennsylvania Hunger-Free Campus!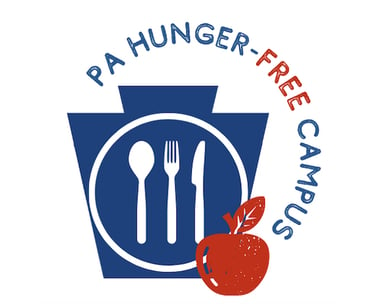 Governor Wolf's administration recently introduced an initiative to end hunger on college campuses by helping students access free, nutritious food options. Rina Keller, the co-chair of the Knights' Pantry, applied for Neumann University to be designated a Hunger-Free Campus, and the application was approved.
Non-Perishable Items: 
Cereal 
Granola/snack bars 
Crackers  
Chips
Cookies
Peanut Butter  
Jelly  
Rice  
Pasta  
Canned Soup  
Tomato Sauce  
Ramen Noodles  
Microwave Macaroni and Cheese 
Canned Fruit 
Coffee/tea 
Water 
Microwavable meals (non-frozen)
Canned meat (tuna, chicken) 
Pudding 
Condiments  
Shelf Stable milk and milk alternatives 
Sports Drinks 
Milk & Juice** 
Ice Cream** 
Mug Cake Mix
Perishable Items:  
Apples & Bananas 
Toiletries and Hygiene Items  
Soap  
Deodorant  
Shampoo & Conditioner 
Feminine Products 
Lotion 
Chapstick 
Laundry pods & dryer sheets 
Dish soap 
Toilet paper  
Tissues  
Diapers/Wipes 
Location: RAB 5th floor
Accessible by elevator or stairs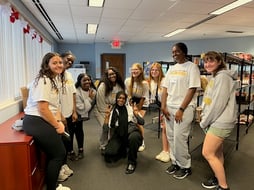 Hours of Operation
Monday 10am - 5pm
Tuesday 10am - 5pm
Wednesday 10am - 5pm
Thursday 10am - 5pm
Friday 10am - 5pm