Responsibilities and Rights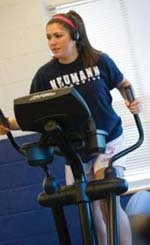 Neumann University provides residential facilities to enhance the mission of the University. The University expects, therefore, that resident students will maintain their environment in a safe, secure, and sanitary manner. Residents themselves bear primary responsibility for safety and security in the Living and Learning Center complex.
Keeping doors locked, maintaining the security of outside doors, following the regulations for visitors, and keeping a lookout for the safety of fellow students are just a few of the responsibilities that rest on resident students. Carrying them out will contribute to an environment that enhances learning.
Housekeeping will clean common areas, lounges, stairwells, and public restrooms. Residents are responsible for keeping these areas in a safe and sanitary condition. Students are responsible for cleaning their own apartments/suites/rooms and removing their trash to the designated areas. Students are also responsible for damages that occur in their rooms/apartments/suites as well as community damages. Community damage is damage done to the common areas of the residence halls and no one claims responsibility for. These charges are broken up by room, floor, building, or community depending on the location of the damage. Common areas include, but are not limited to the lobbies, hallways, study rooms, elevator, and gazebo. After consultation with the Director of Facilities, the Director of Residence Life assesses a charge for damage done and places the charge directly on the student's account.