Neumann University is offering a Pennsylvania Department of Education approved endorsement that can be added to current certification. The goal of the Instructional Coach Endorsement Program is to provide teachers with the skills to be effective instructional coaches and prepared to deliver job-embedded professional development with the goal of improving teaching and learning environments. This program offers practical and hands-on opportunities to explore and practice instructional coaching techniques. The coursework focuses on topics that include professional development planning and assessment, understanding leadership and organizational change, and planning, assessing and reflecting on instructional coaching techniques. The sessions will be offered in a combination of face-to-face, online, and supervised field experience. The supervised field experience will include one-on-one mentoring and consultation to guide teachers as they integrate instructional coaching techniques preferably within their own school environment.
Program Highlights:
Add a PDE approved endorsement to your current certification
Program is accelerated in an 8 week format
Program can be completed in as little as two semesters
Courses will begin running Summer 2015
One-on-one support and mentoring
Apply courses towards Master's degree or earn Act 48 credits
Coursework and assignments are developed with the adult learner in mind – learners complete assignments they can apply and use in their current school environment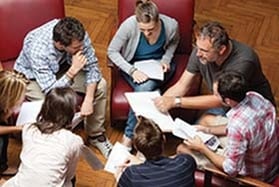 Who is this program for?
- PA certified teachers who currently hold
Level I or Level II teaching certificate
- Must have at least three years of
successful teaching experience
- Teachers who are interested in
professional development and coaching
- Teachers who are interested in leadership
and organizational change
Required Courses
Introduction to Instructional Coaching
(3 credits)
Professional Development Planning and Assessment
(3 credits)
Leadership and Organizational Change
(3 credits)
Instructional Coaching Practicum
(3 credits)

For information, please contact:
Stephanie Smith Budhai, Ph.D.
Director, Graduate Education
610-358-4249
budhais@neumann.edu
Ginny Hoesch
Administrative Assistant
Graduate Education
Rocco A. Abessinio Building (RAB)
Room 321A
610-558-5609
hoeschv@neumann.edu