International Studies Education
Study Abroad
Franciscan Heritage Program
Perugia, Italy
Program Information
The Franciscan Heritage Program (FHP) is an undergraduate study abroad opportunity sponsored by St. Bonaventure University in association with the Umbra Institute of Perugia, Italy. Students will take a full semester's course load including a Franciscan Heritage course, Italian language and regular Umbra Institute courses. All courses are taught in English except for optional advanced Italian language and culture courses. FHP students will read selected primary Franciscan texts in translation, and attend field trips to historical sites in neighboring Assisi and the Umbrian region.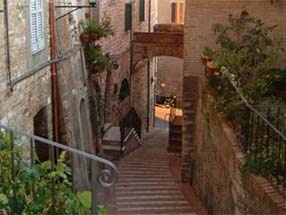 Location Perugia, capital of Umbria, il cuore verde d'Italia -- the green heart of Italy -- is midway between Florence and Rome and only 20 miles from Assisi. Here one finds ancient Etruscan walls, medieval churches, Renaissance palaces and spectacular views. Perugia is large enough to offer an interesting and varied cultural experience yet small enough to be comfortable. Home to several Italian universities and a multicultural student population numbering in the tens of thousands, Perugia is a unique and historic city with a very youthful, sophisticated spirit.
St. Bonaventure University (SBU) & the Umbra Institute
The Franciscan Heritage Program is offered by St. Bonaventure University (located in western New York State) through the Umbra Institute of Perugia, Italy. FHP was created by Michael Chiariello, Ph.D., a Professor of Philosophy at SBU and Director of the Program, for students from members of the Association of Franciscan Colleges and Universities. Dr. Chiariello will travel to Italy with the group, teaching the required FHP course and leading field trips to the local Franciscan heritage sites. The Umbra Institute was founded in 1999 in Perugia, Italy, as a center for higher education offering academic programs for students of US colleges and universities.
Academic Program
Students will be required to take the following:


One FHP course.



One course in Italian language (at the appropriate level.)



Two or three elective courses offered by the Umbra Institute, selected from the following departments:



ARCHEAOLOGY

ART HISTORY

CLASSICAL STUDIES

ECONOMICS

ENGLISH

FILM & MEDIA STUDIES

HISTORY

HONORS COURSES

INTERNATIONAL BUSINESS

ITALIAN LANGUAGE

ITALIAN STUDIES-INTERDISCIPLINARY

LITERATURE

POLITICAL SCIENCE

PSYCHOLOGY

RELIGION & PHILOSOPHY

STUDIO ART


Consult the full course schedule here.
Qualifications
Students who are Sophomores or Juniors at the time of application are eligible to apply. A minimum GPA of 2.75 is required for admission.


Accommodations
Housing is provided in apartments situated throughout the city center. Apartments are shared, and most house between two and six Umbra students. There are also opportunities to stay with a host family. All student housing is within walking distance of the historic center and the Umbra Institute's four buildings, and walking through the city is an extremely easy, pleasant, and social experience.

Meals and Personal Expenses
As there is no meal plan for the Umbra program, students are encouraged to shop and cook for themselves. All apartments are stocked with basic kitchen utensils. As an alternative to cooking, the Università per Stranieri offers low-price cafeteria meals, and the Umbra student ID card is valid for discounts at many local trattorias, pizzerias, and pubs.

Terms available: Spring semester

Term Dates: 1st week of January – 4th week of April

Application Deadlines: October 15

Program Fees
Payable to St. Bonaventure University

Deposit

$500

Payable to Neumann University

Tuition & Housing

Neumann Tuition & Room fees

Above fee includes airport transfers in Italy, orientation, CISI health insurance and some cultural activities.

Additional Estimated Expenses - Payable Directly to Vendor

$145

Airfare

$800 - $1100

Visa Fees

No charge

Permesso di Soggiorno

155 Euros

Textbooks & Course fees /materials

$500

Meals & personal expenses - not including extracurricular travel

$200 - $250/week
Application Procedure – First Steps