Irish Folk Celebration
at Neumann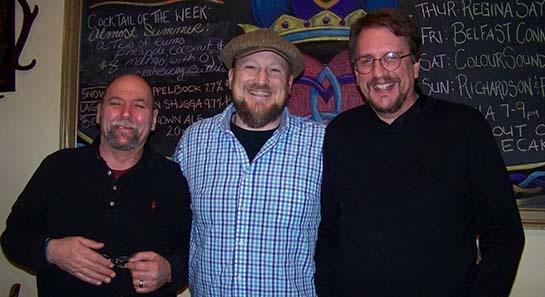 Belfast Connections brings the spirit of Irish Folk to the
Neumann University stage on Thursday, March 9
Belfast Connections brings the spirit of Irish folk music to celebrate St. Patrick's Day for the Cultural Arts Forum at Neumann University on Thursday, March 9 at 1:30 p.m.
Belfast Connections infuses their performance with energy as they tell the story of Ireland and her people. The performance includes a wide collection of well-known Irish pub songs and ballads sung by many throughout the decades. Audiences can delight as Frank Reed, Charles Kadyk, and Damian Larkin weave their passion for Irish culture, music, and professional style in a truly unique stage celebration.
This event is presented by the Cultural Arts Forum, which has been sponsoring events to support adult women students at Neumann University through the endowed scholarship named in honor of the founder of the Forum, Margaret Mary Kearney. Since its founding in 1970, the Forum has presented more than 250 events and seminars.
The event will be held in the Fred P. Meagher Theatre in the Thomas A. Bruder, Jr. Life Center on campus. Admission is $10. Free for Cultural Arts Forum members. Please contact Nicholas DiMarino at 610-558-5626 or at dimarinn@neumann.edu for more information.
02/20/17