Alum Faces off Against the Harlem Globetrotters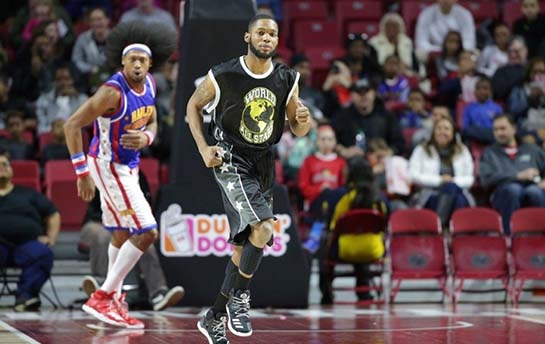 Mark Blount '15 plays for the World All-Stars
Mark Blount '15 plays for a basketball team that travels the world and competes in some of the most storied arenas in the United States. His team goes against the same opponent each game. They have never won a game and never will, and that's just fine with Blount.

For the past two years, Blount, a criminal justice major and former forward for Neumann University men's basketball, has been a member of the World All-Stars. The World All-Stars plays the Harlem Globetrotters – and loses every single game.

The Globetrotters constantly play pranks on the World All-Stars. Players have been soaked in water, had the ball hidden from them on the way to the basket, and fooled with a number of crazy trick plays.

Blount has traveled the country with the Globetrotters and recently played at the Staples Center in Los Angeles, California. But one of his career highlights has been coming back home to play in front of his family and friends in Philadelphia.

"It was one of the best feelings of my life having my friends and family come out and see me play," he recalled.

After graduation, Blount had hopes of continuing basketball and considered going to play in Europe. A former basketball coach encouraged him to try out for a spot on the Globetrotters' roster. In 2015, the general manager of the team liked what he saw in Blount and offered him a position with the All-Stars.

"The best part is seeing the smiles on the kids' faces. I'm really enjoying this experience and I'm just grateful to be having this opportunity," Blount said.

Blount credits Neumann University with giving him opportunities both on and off the court. He realized the importance of getting his degree and planning for long-term success.

"I always had the idea of playing professional ball but wanted to get my degree, too. I wanted to have that as a backup," he said. "I plan on doing this until my body says I can't do it anymore. Then I will use my degree. I'd like to go into law enforcement. I want to be an FBI agent."
03/31/17