White House Welcomes WNUW Students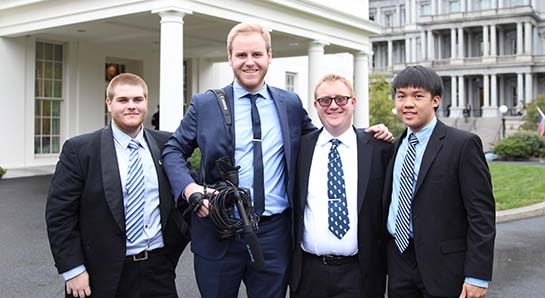 Matthew Popo, Patrick Fahy, Sean McDonald, and Andrew Pham at the White House.
The College Radio Foundation brought a delegation of students representing college radio to The White House on Thursday, October 27, 2016.
The students, currently enrolled at 10 different universities across the nation, are members of college radio stations participating in the November 4th College Radio Day. Andrew Pham and Matthew Popo, students at Neumann University, along with faculty advisors Sean McDonald and Patrick Fahy, were among the delegation.
The participants met with members of the Obama administration to discuss important issues relevant to current college students. Topics included college affordability, student loans, and climate change. The group also met with press secretary Josh Earnest to discuss his role in the media and the importance of college media in today's society.
College Radio Day is an annual event sponsored by the College Radio Foundation to unite college radio stations around the country, while celebrating its important contributions to music, journalism, and the radio industry as a whole.
The College Radio Foundation is a 501(c)(3) charity. The Foundation works to promote and support non-commercial college radio stations and the students involved with them across the United States.
Contact:
Dr. Rob Quicke, Founder
rob@collegeradioday.com

Sean McDonald, President of College Radio Day
sean@collegeradioday.com
10/28/16