Neumann Spirit Shines through a Rainy Commencement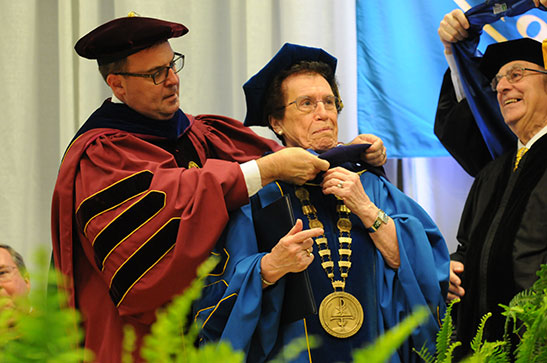 Dr. Rosalie Mirenda and her husband Tony received honorary degrees for their leadership during her 21 years as president.
A retiring president, a scholar-athlete, a community servant, and four trail blazers highlighted Neumann's 2017 Commencement Exercises on Saturday, May 13.
| | |
| --- | --- |
| | |
| | An escort of Mummers provided a fitting finale for Dr. Mirenda, a native of South Philadelphia. |
| | |
| | |
| | Valedictorian Haley Broomell urged her classmates to "find what gives you pure joy and pursue it to the fullest." |
| | |
| | |
| | Embodying the Franciscan tradition of service, Mariah Powell collected 150 coats for the homeless in West Philadelphia. |
| | |
| | |
| | Antoinette Hemmerich and Christopher McIntosh earned the first Ph.D. degrees awarded by Neumann University. |
| | |
| | |
| | Lynne Lavelle and Sr. Kathleen Moffatt, OSF, members of Neumann's first graduating class 50 years ago, were recognized as Golden Girls. |
| | |
| | |
| | Sr. Kathryn Dougherty, OSF, received an honorary degree and told the graduates that they "have prepared for a meaningful life." |
| | |
Despite heavy rain that moved the ceremony to the Mirenda Center for Sport, Spirituality and Character Development, the University handled the weather disruption smoothly, awarding 791 degrees: 38 doctoral, 213 master, 536 bachelor, and four associate. With the commencement crowd filling the Center to capacity, the ceremony was streamed live to three other locations in the Thomas A. Bruder, Jr. Life Center: the gymnasium, the Meagher Theatre, and the multipurpose hall. Many family members and friends watched the graduation on large screens at those sites.
It was the last graduation to occur under the aegis of Dr. Rosalie M. Mirenda, Neumann's president for the last 21 years. The University's longest-serving president, Dr. Mirenda will retire on June 30, 2017. In a moving tribute to the Mirendas' dedication and leadership, the Board of Trustees presented Dr. Mirenda and her husband Tony Mirenda, the University's best ambassador, with honorary degrees.
During her more than two decades at the helm, the University has expanded its academic programs, become a residential campus, strengthened its fundraising capacity, added academic and recreational facilities, broadened its community service outreach, launched new athletic teams, captured national championships, and achieved university status – all the while remaining true to the Catholic Franciscan mission that has been at the heart of the University since 1965.
Valedictorian
Other than Dr. Mirenda, the star of graduation was Haley Broomell. A Biology/Clinical Laboratory Science major, Haley won the university's John A. Phillips Scholar-Athlete Award and the Valedictory medal at the April 21 academic awards convocation.
The Valedictory medal is presented to the student who earned the highest GPA in the graduating class, and who demonstrated leadership and involvement in community service congruent with the University's mission and core values. Recipients of the John A. Phillips Scholar Athlete Award are graduating student-athletes who have maintained academic excellence; earned varsity letters in NCAA-sponsored sports at Neumann; and best exemplify scholarship, service for others, and commitment to excellence in both academics and athletics.
In addition to these two awards, Haley won the Sister Margaret Lewis, OSF Award for Excellence in Clinical Laboratory Science, the David Barton Sumner Award for Leadership and Sportsmanship, and a certificate for completing the University Honors Program.
Addressing her classmates, Haley urged them to "seek balance, find what gives you pure joy and pursue it to the fullest, and step back to appreciate each and every moment that God has given you in this world."
Haley has already landed a job at Delaware County Memorial Hospital and has been accepted into the master's degree program in Occupational Therapy at Temple University. On the softball diamond, during the first week of April this season, Haley pitched a no-hitter and a perfect game in consecutive starts, going Cincinnati pitcher Johnny Vander Meer one better (Google him).
The community service prodigy in the class of 2017 is Mariah Powell. In the fall, Mariah decided that she wanted to do something to help the homeless in her West Philadelphia community. Her mother runs Taylor Learning Academy, a child care center near 42nd and Haverford, and Mariah saw children come and go every day without coats or jackets. The Psychology major began collecting new and slightly used coats, marketing her efforts through flyers, social media posts, and word-of-mouth campaigns.
The response was more than she had hoped for, so she began to expand her plans. She visited shelters and invited people to come to a distribution location for a free coat on January 20. When 150 guests arrived, Mariah didn't let them down. Using her entrepreneurial skills, she had collected not only 300 coats but also recruited a clown, a face painter, a dance troupe, and served dinner to all of her guests.
Trail Blazers
The trail blazers are the two students who earned the first Ph.D. degrees that Neumann has ever awarded and two others who were part of the first graduating class in 1967.
Antoinette Hemmerich and Christopher McIntosh are the Ph.D. pioneers who completed their course work and dissertations for doctoral degrees in Pastoral Counseling.
Dr. James Houck, director of the Ph.D. program, which began in 2013, said, "On March 20, Dr. Toni Hemmerich defended her research topic on The Integration of Reiki and Psychotherapy on Depression: The Lived Experience. Dr. Hemmerich's dissertation contributed to mental health profession by providing a healing model that benefits symptom reduction and overall wellbeing of body, mind, and spirit. A week later, Dr. Chris McIntosh defended his research topic on A Comparative Study on Seminarian and Clergy Attitudes Toward Seeking Psychological Services. Dr. Macintosh's dissertation emphasized a more collaborative effort on the part of clergy and mental health professionals in the care and treatment of communities."
In celebration of the 50th anniversary of the University's first commencement in 1967, two members of the original graduating class attended this year's ceremony and sat in the VIP section. Neumann (then Our Lady of Angels College) awarded degrees to nine Sisters of St. Francis back in 1967. The two 2017 Golden Girls are Lynne Lavelle (literally the first graduate) and Sr. Kathleen M. Moffatt, OSF.
Honorary Degrees
Honorary degrees were presented to Sr. Kathy Dougherty, congregational minister of the Sisters of St. Francis of Philadelphia; Frank Janton, owner of F.J. Janton Company, a direct mail firm, and longtime member of the University Board of Trustees; and posthumously to his wife Marie Janton, a concert cellist and partner in F.J. Janton Company.
Frank Janton advised the graduates to "Be aware that time is a thief. It is gone before you know it. Do not put off what is important" and to "Become involved. Share your time and abilities… When you give of yourself you become more complete."
"Tomorrow you continue your journey with an academic degree in your hand," Sr. Kathy told the graduates. "Not only have you prepared for a professional career, but in attending Neumann, you have also prepared for a meaningful life … Throughout your studies at Neumann, five values were emphasized that are rooted in the lives of Saints Francis and Clare. They are the values of Reverence, Integrity, Service, Excellence, and Stewardship. I encourage you today, to go forth from this institution continuing to make these values your own. They are values our world desperately needs."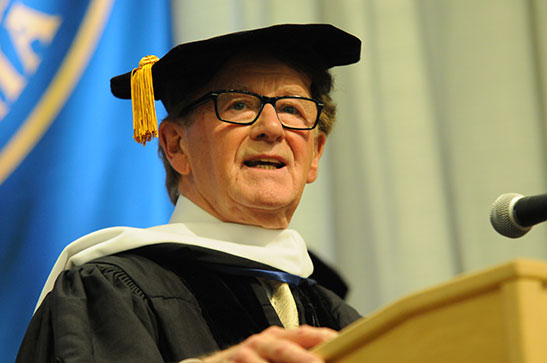 Frank Janton received an honorary degree. His beloved wife Marie received one posthumously.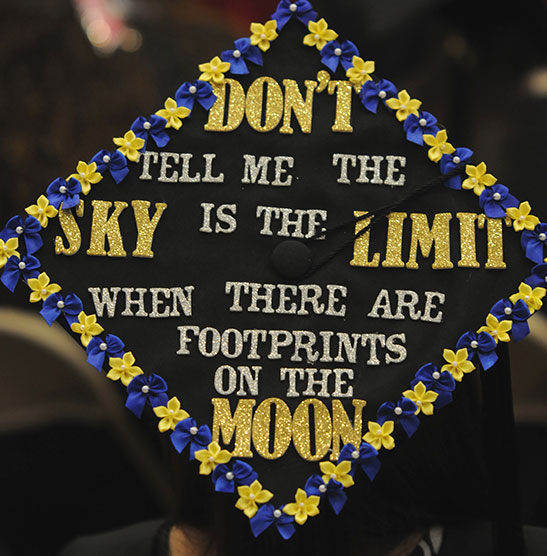 Mortarboard messages expressed gratitude and good humor.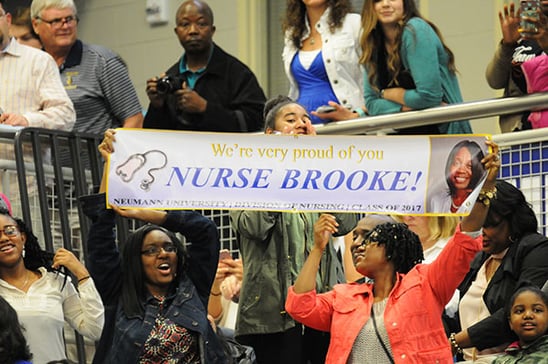 The Mirenda Center was packed with families who came to celebrate.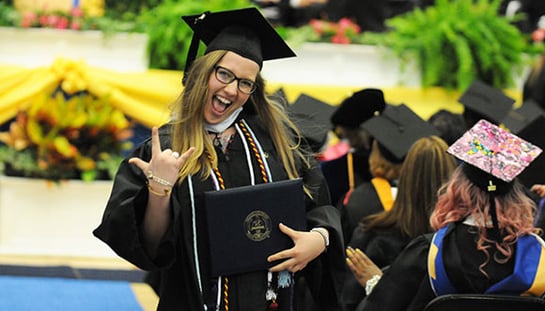 Heavy rain moved the graduation ceremony inside but didn't dampen


the spirit of the graduates.
05/13/17