A Heartwarming Moment on the Ice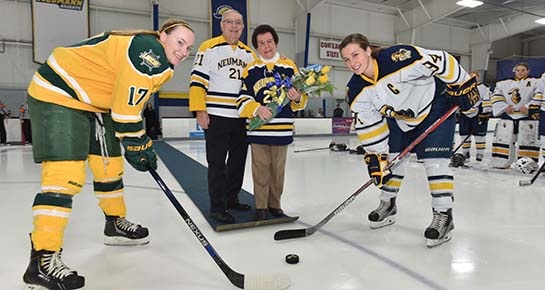 Tony and Dr. Rosalie Mirenda at the ceremonial puck drop before
the match with Oswego State.
The Mirendas on the ice with the team.


The #21 jerseys represent the length of
Dr. Mirenda's presidency.

Signs of appreciation filled the rink.
The warm hearts on the women's ice hockey team could have melted the Ice Works rinks on January 21. The team invited Dr, Rosalie Mirenda and her husband Tony to visit their locker room before a 2 p.m. game against Oswego State, pose for a photo with the entire team, and even participate in a ceremonial puck drop.
This outpouring of gratitude was the team's reaction to the well-publicized news that Dr. Mirenda is stepping down at the end of this year. Neumann University's longest-serving president (1996-2017), she will retire on June 30, 2017, at the conclusion of her twenty-first year at the helm of the institution.
During her more than two decades of leadership, the University has expanded its academic programs, become a residential campus, strengthened its fundraising capacity, added academic and recreational facilities, broadened its community service outreach, launched new athletic teams, captured national championships, and achieved university status – all the while remaining true to the Catholic Franciscan mission that has been at the heart of Neumann University since 1965.
01/24/17