Grad School Is Calling
Graduate and Adult Open House
Register today for September 30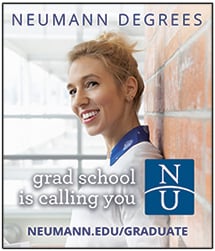 Welcome. We'd like to invite you to attend our open house on Saturday, September 30, 2017. It runs from 10:30 a.m. to noon in the Mirenda Center for Sport, Spirituality and Character Development.
YOU CAN REGISTER ONLINE RIGHT HERE.
Our programs include doctoral, master and bachelor degrees, as well as some certificate programs. Take a look at the options we offer and see which ones fit your educational goals.
Bachelor Degrees
Bachelor degrees for adults

are available in Liberal Studies (in class or online), Organizational Studies (hybrid or online), and Public Safety Administration (online only). You can transfer as many as 90 credits into each of our undergraduate adult degree programs. Be sure to ask about credit for life experience, too.
Master Degrees
Doctoral Degrees
DPT:

Earn an entry level Doctor of Physical Therapy in a weekend, on-campus program that's accredited by CAPTE
EdD:

Our customized Doctor of Education curriculum allows you to conduct practical, problem-solving research right in your own school district.
PhD in Pastoral Counseling:

Our Ph.D. program is a mix of online and classroom study, offered in a weekend format.
Program directors will be on hand to chat with you about your educational goals and answer questions. For more information about any of our graduate and adult degree programs, call 610-361-5208 or write to gradadultadmiss@neumann.edu.
YOU CAN REGISTER FOR THE OPEN HOUSE HERE.
8/23/17